Welcome!
ActNow Promotions was founded by CJ and Amanda Jerman as an Advertising Products business in 2008 that provides all types of printed products. Providing T-shirts, Business cards, Mugs, Pens, Uniforms etc. to business's, schools, organizations, races and many other groups has been the foundation of ActNow Promotions since the start. In 2011 ActNow Promotions added comprehensive race timing and quickly became a leader in the chip timing industry.
ActNow is trusted by some of the most respected people and organizations in Southwest Missouri. Printing your local fire departments t-shirts to timing your son or daughter's state qualifying cross country meet, ActNow has always upheld strong values of trust, honesty and integrity. We have upheld these values and we make sure that every customer, all services, and every order is treated with the greatest care and expertise.
Featured Item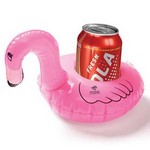 Inflatable Pink Flamingo Floating Coaste...
Party in the pool, with this fun floating coaster. Snugly holds a 12 Oz. can or stadium cup filled with your favorite beverage and keeps it within reach. 8 3/4" W x 6" H
$1.69 - $1.89